Showing the World Jesus Cares
Through His church
Pastor Frank and Gayle Griffith established Camp Victory Life in Foley, AL.
This ministry is funded solely through donations of faithful contributors.
Operation Readiness – Summer 2022!
Hi, Friends!
Storm season is fast approaching and as you know, readiness is a must to be able to deploy into affected areas at moment's notice.
Our supplies and equipment budget has been depleted and we are letting our friends and partners know that we will be in the fundraising phase for the next four weeks.
James 4: 2b-3 says, "You do not have because you do not ask.  You ask and don't receive because you ask amiss that you may spend it on your own pleasures."
We are asking God to provide so that we can spend it on helping others. If you are in a place where you are able to help at this time, we would greatly appreciate it.  If you can't give now, please pray for CVL and all who seek God for ways to help in times of disasters.
Thank you so much. We love and appreciate you all.
Frank and Gayle Griffith
Our confession for you ………..Luke 6:38  
Give, and it will be given to you: good measure, pressed down, shaken together, and running over will be put into your bosom. For with the same measure that you use, it will be measured back to you."
We appreciate everything and material goods are great, but financial donations are very much appreciated at this time so that we can purchase matching items to go into cleaning buckets and personal hygiene bags, etc.
Supplies for emergency buckets
Supplies for first response food and Styrofoam plates
Cleaning supplies, buckets, etc.
Flashlights, water containers, etc.
New t-shirts, underwear, bras, towels, washcloths, etc.
Tires for trailers
Parts for trucks and tractors
Fuel for tanks and generators
Camp Victory Life (CVL) is a Christ-centered, multi-purpose training and outreach center. We reach out to communities in need to share hope, God's love and encouragement with those who have been affected by disaster-related events. CVL also serves as a Discipleship Training Center committed to helping Christians discover their purpose and equipping them to walk in it.
To volunteer and get involved , complete the application below.
Our team will review and contact you on next steps.
Explore the latest blog posts and videos from Camp Victory Life on this site or visit us on Facebook.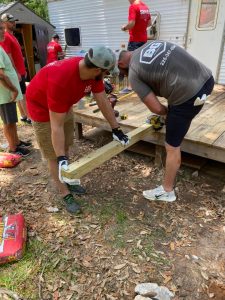 Our June 2022 Project What a tremendous Community Outreach we had with our friends from Healing Place in Denham
Read More »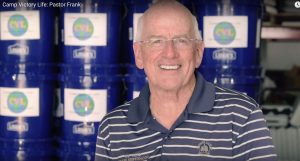 Pastor Frank Update on Camp Victory Life Pastor Frank and Ryan Interview
Read More »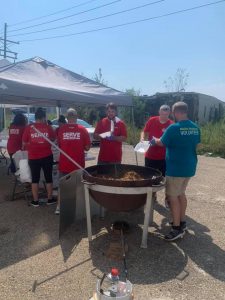 Pastor Frank, Mrs. Gayle, and a team of volunteers from Foley, Alabama joined with others from  Denham Springs, Louisiana
Read More »
Pastor Frank and Gayle Griffith, Founders
9381 South Hard Drive
Foley, AL  36535
Phone: 251-943-7909